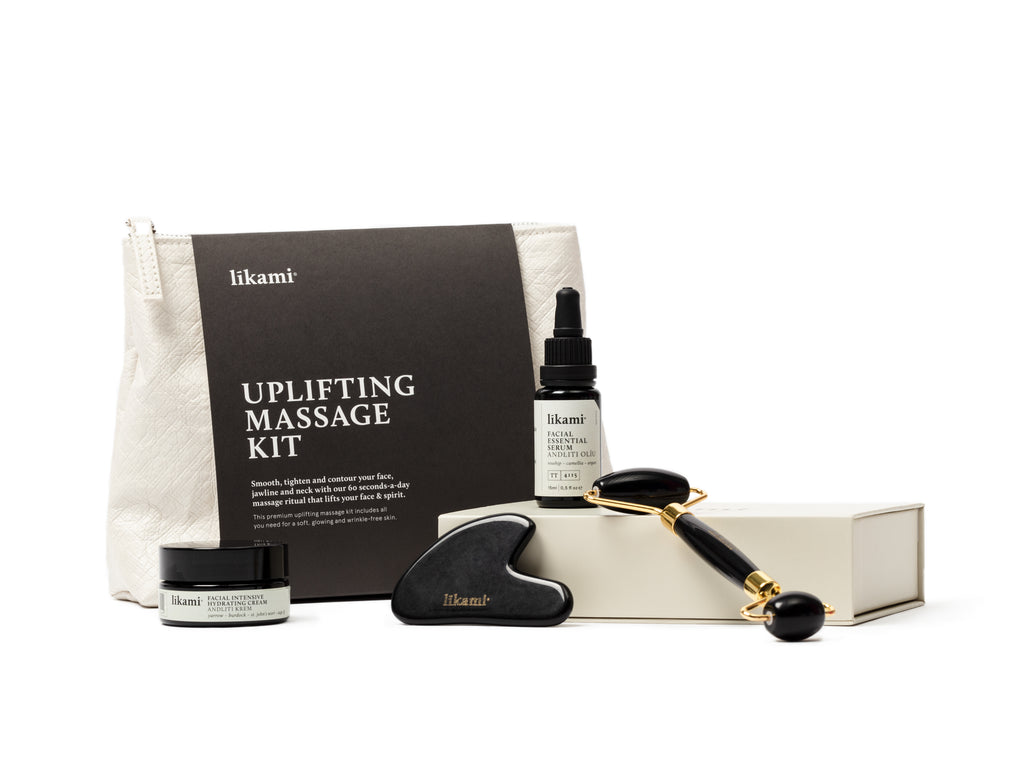 Kit: Uplifting Massage
€99.00
€0.00
Premium massage kit to make your skin glowing every single day.
Product details
Smooth, tighten and contour your face, jawline and neck with our 60 seconds-a-day massage ritual that lifts your face & spirit. This premium uplifting massage kit includes all you need for a soft, glowing and wrinkle-free skin.
It includes:
facial essential serum travelsize - 15 ml

facial intensive hydrating cream travelsize - 30 ml 

black obsidian facial lifting roller

black obsidian gua sha sculpting tool
A versatile 100% recyclable Tyvek paper toiletry bag, ideal for travel, toiletries, and everyday essentials. Our custom reusable zipper pouch is made from recycled content and gets better with time and wear. (handwash if needed)

Likami uses recycled Miron violet glass or recycled plastic as packaging. There's no extra carton box, but a recycled peel-off label that contains all necessary information. All products are manufactured in the South of Spain.
Specifications
See separate technical data sheets of the different products for full list of ingredients, beauty benefits, botanical actives, application and directions. Kits are packaged in a jute bag to make the perfect gift for yourself or loved ones.